Budds Beach is Surfers Paradise's hidden gem and many locals of the Gold Coast don't even know that it exists. It's a great place to live, visit or to play as it has so much to offer and you will find yourself wanting to visiting this gorgeous pocket of beauty over and over to enjoy with family or friends.
Nestled on the sandy beaches of Nerang River right in the heart of Surfers Paradise, it lays idly on the eastern side of the river so it's easy walking distance from the Cavill mall area of Surfers Paradise or a bike ride from Southport or Broadbeach.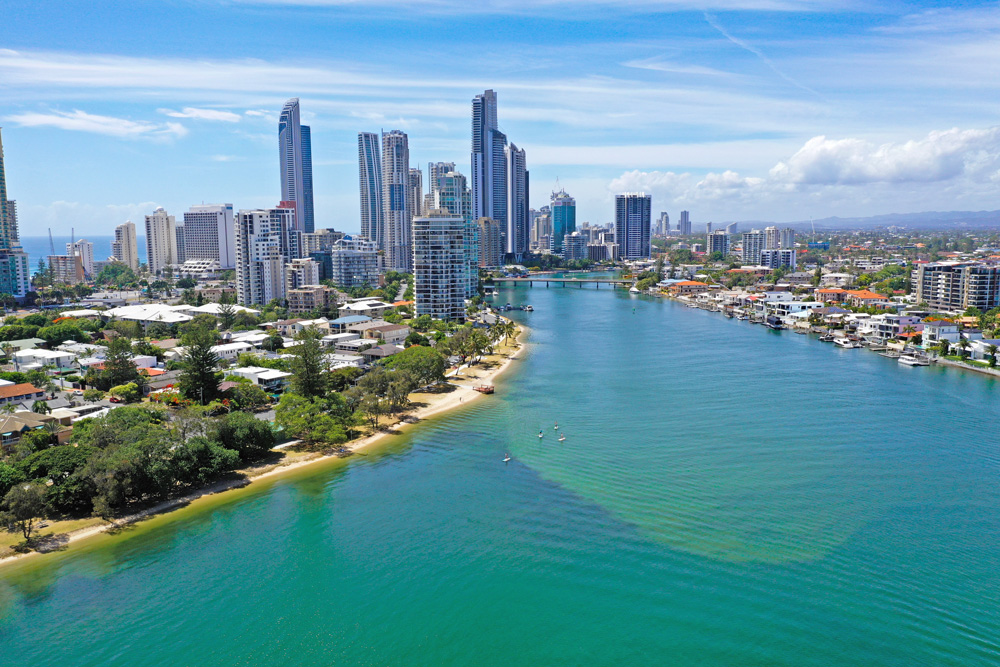 There is a large grassy park with plenty of shaded area, barbecues, park benches, shallow swimming area, plenty of climbing trees and a fun playground for the kids making Budds Beach a one-stop shop for families and friends to enjoy. Budds Beach reserve gives you beautiful vistas of Chevron Island, the Cronin Island mansions, Surfers Paradise high-rises and Paradise Waters. Although you wouldn't know you were only a stones throw from Surfers Paradise as despite being surrounded by all this development, the beach area itself is still so tranquil.
The sandy beach at the front of Budds beach is shallow and kid friendly. It boasts a large sandbank into the river so the kids can play in the shallows and swim and build sandcastles on the beach.
Many families utilise Budds Beach because it's convenient and beautiful at the same time. Equipped with full amenities, it is easy for a family to have a picnic or enjoy a coffee from the cafe and there are outdoor showers where you can rinse the sand off the kids before you throw them back in the car to head home.
The kids playground is in a shaded area right near the boat ramp, so it's great just to spread a blanket and enjoy a picnic while the kids have a play.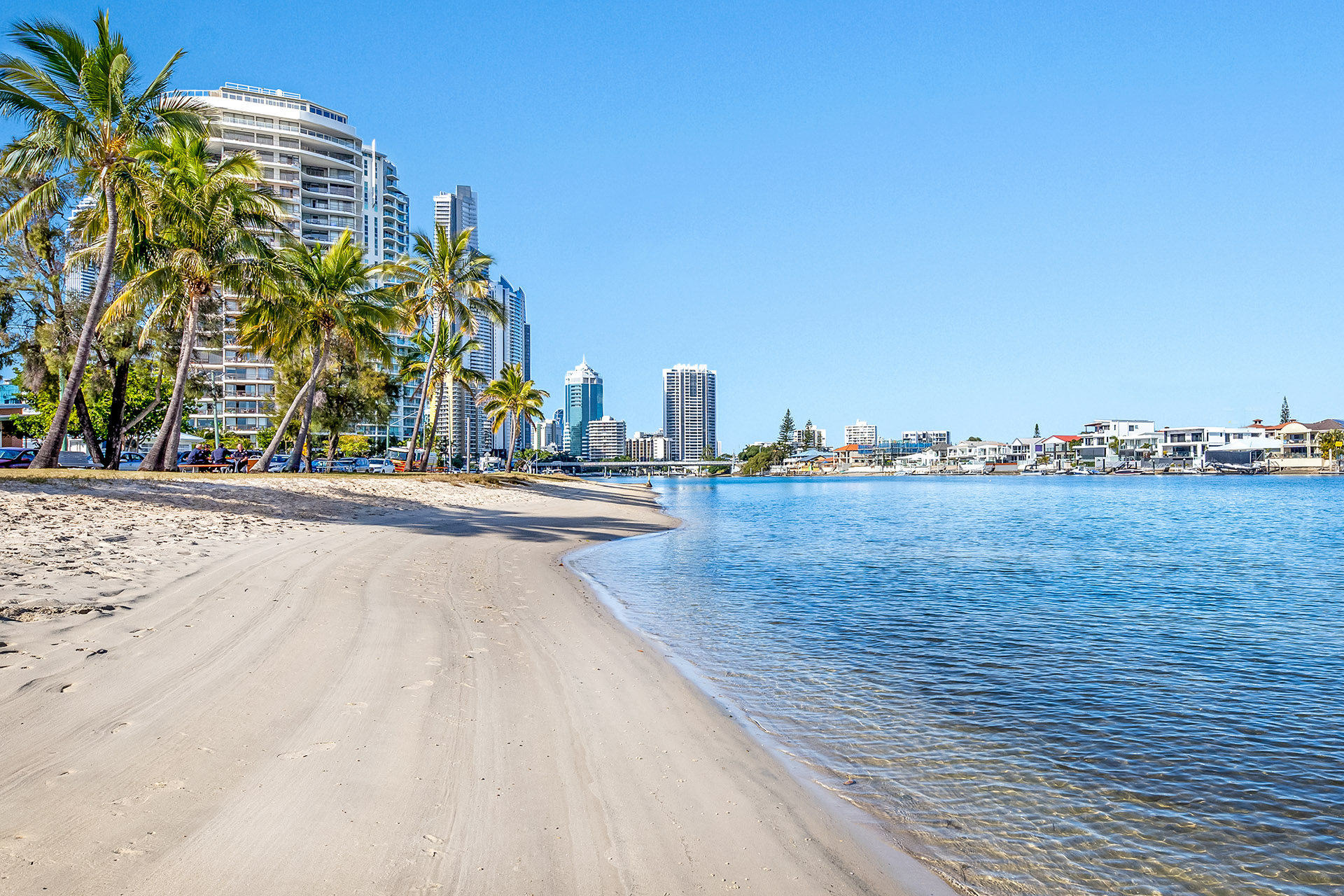 Not just for the kids and families, there are plenty of people who find Budds Beach relaxing whether it's for a barbecue, beers at sunset or boaters rigging up near the ramp, this little hidden beach is absolutely amazing. Bring your comfy camp chair and the esky and enjoy sunset on a lazy weekend and be amazed just how beautiful this area is.
We also have some dining, shopping and pampering at beauty parlours here at Budds Beach.
The famous cafe "Bumbles Cafe" is located here, a drawcard in itself, there is also a hairdressers and Jaylash Eyelash Heaven on the top floor. On the street level, Willow and Bailey is the most beautiful gift shop where you are sure to find a unique and perfect gift even for the most challenging recipient.  Next door is the little nail bar where you can have your nails done or pamper yourself with a pedicure so sit back relax and let Shinea pamper you. Remember to wash the sand off your toes before you go in for your pamper package.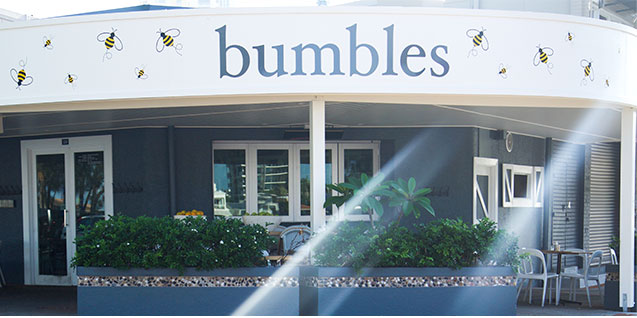 Nature is in abundance Budds Beach. Quite often you will see the local pod of dolphins that come through the Nerang river. You'll know they have arrived when you hear the squeals of delight from beach goers resounding over the river.
Did I mention fishing? You can always find one or two people along the shoreline or on the jetties taking the time to whip out a line and see what they can pull out, from bream, whiting or perhaps even a mullet.
Everybody enjoying life on the water on boats, boards, kayaks or jet skis often stop by at Budds Beach to get a coffee, pickup some takeaway lunch or rinse off the salt water and relax on the beach. Paddle board tours, kayak tours, board Hire, Kayak Hire, park yoga, it's all here. You just have to know where to look.
Most tour boats cruising the Surfers Paradise waterways pass by in front of the beach. It's also not uncommon to see the unmistakable "Cruising Around" bright orange circular boats which are becoming more popular on the water. However, we think the best thing to spot at Budds Beach are the dolphins. Sometimes they'll come in and feed in the area and there's nothing better than putting your feet in the water looking out watching the dolphins play and jump out of the water. It's just magical.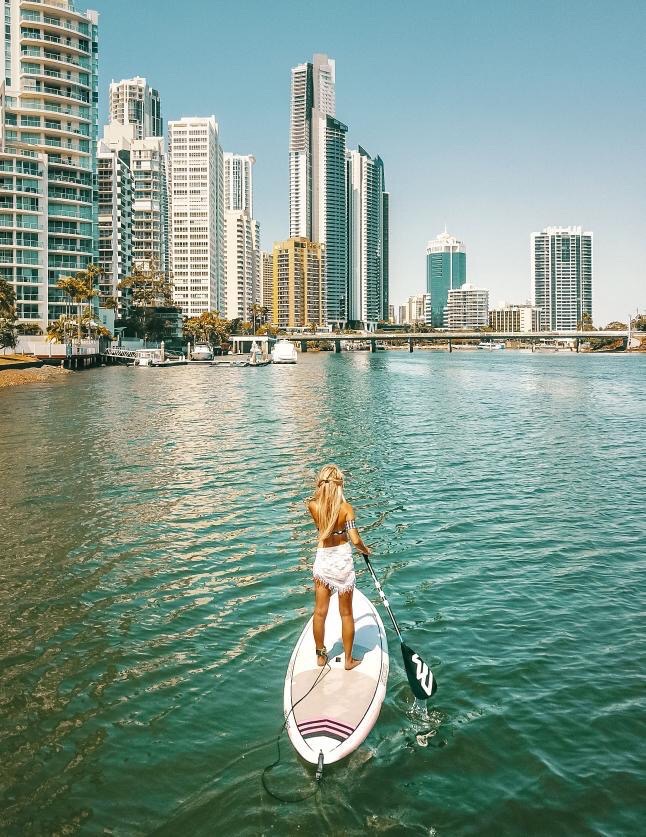 We had a truly special moment a few years back when we spotted a Dugong rolling around in the river channel. He was feeding on the seagrass in the river and we were able to see him every time he came up for air. That was a very special moment. We paddled around and followed him for a good 20 minutes before we lost sight of him. You never know what you're going to see whilst on the water on the beautiful Nerang River, we have spotted rays jumping out of the water, spotted cuttlefish and even a prawn along the shallow shoreline of the beach.
Nature is surely in abundance on this beautiful stretch of the Nerang River. Quite often you will see black swans, cygnets and other bird life.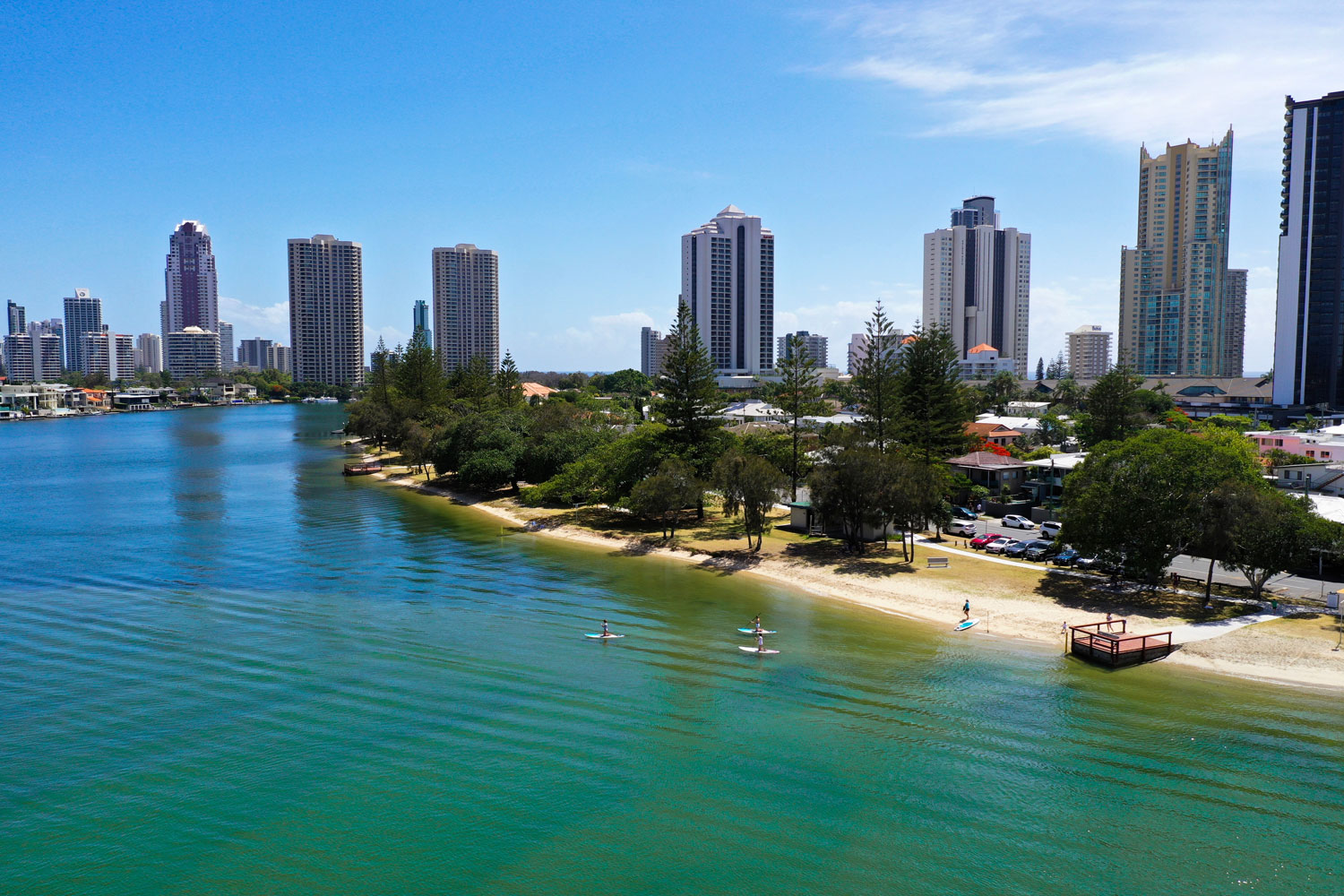 There is something for everyone at Budds. Bring Nana and Poppy down to have a cup of tea and cake in the park. Spend your next hens or baby shower celebration enjoying a high tea at the cafe or just sit in the park and watch the world go by. It's peaceful, serene and calm watching the boats pass by on the water. It's so picturesque. With stand-up paddle boarders meandering around on the water with the sunset behind them to fishing boats or party boats going through, there is always a photo opportunity here at Budds Beach. We surely hope you get to enjoy it someday soon and enjoy this area like a local.
If you fall in love with this area and have the inclination to move here you'd be unhappy to know that the real estate of this residential area is most sought after and the median price is approx $1.3 million. Some of the houses here are completely waterfront, looking onto the river and the last one that sold just recently was number 15 River Drive on auction for $1.1 million.
Back in the 50s, this suburb was purely a location for holiday beach houses. Sydneysiders using this area to have their holidays in the comfort of their very own beach house. Mostly fibro clad houses, some of which didn't even have a kitchen. The house was purely for sleeping as the owners would spend the days at the beach and dine out in the evenings.
One of the cutest original houses at Budds Beach is on River Drive right next door to Bumbles Cafe. The little blue house! This house recently went up for auction and we had a look through at the open house. We went in to find a cute little cottage with two small bedrooms and lounge room with the bench and a sink in it (no kitchen or stove) and the wooden floor boards undulating uphill and downhill throughout. It's built on a good size block and is in a million dollar location. The house sold at auction for $1.2 million and it's pegged to be developed into a restaurant. Sometime soon you will see a steakhouse here. So watch this space.

Budds, as the locals affectionately nicknamed it, is nestled at the back of Surfers Paradise close to everything. The activity hub of Surfers Paradise is within walking distance. Here you will find an abundance of shops and activities to keep you and the family amused for hours on end.
You could spend the morning at Budds Beach having breakfast maybe going on a kayak tour or a stand-up paddleboard tour and then lunch in the heart of Surfers Paradise and enjoying the surf beach for the afternoon with the family. Plenty of shopping to be done, dining experiences, fun and games and plenty of photos and memories to be made.
This gorgeous beach on the river right in the heart of Surfers Paradise is hard to beat. Those who know it and have visited appreciate it immensely and those who don't know of it are sure to be amazed at how gorgeous and peaceful this place is!