What are the benefits of stand up paddle boarding (SUP)?
Call me biased but I think stand up paddle boarding as one of the best fitness regimes and passive exercises to do on the Gold Coast. As we have so many waterways on the Gold Coast there is a plethora of different routes you can paddle and explore. Here are a few of the main health and fitness benefits paddle boarding provides:
The Benefits of Paddling
Firstly, being a passive exercise, SUP is gentle on your body.  Compared to going to the gym, when you are paddle boarding you are working with minimal resistance which means you don't accumulate the lactic acid in your muscles. Therefore, the next day although you feel like you've done something and your muscles feel stronger, you're not sore like you've been to the gym and lifted weights. Paddling offers a gradual muscle workout allowing you to build and define every muscle.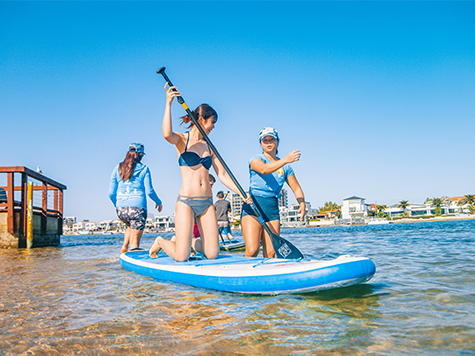 Paddling is an exercise that can be tailored to all fitness levels and can be made more challenging as your fitness improves. These benefits make paddling a popular inclusion in many group fitness regimes.  Participants can take it to their own level but training in a group provides the support to become a fitter, stronger paddler, along with improved techniques and the ability of adapt to different paddling conditions. The intensity of training sessions can vary depending on the trainer and competitive paddling groups generally train three times a week, doing both flat-water sessions and ocean paddles to challenge both physical ability and mental stamina.
Paddling is a great all-over physical workout. When a paddler gets out on the water at least twice to three times a week for one hour at a time, they will notice improved muscle definition within a month and improved strength and power in all aspects of their body. It's an all over body workout from the tip of your toes to the tip of your head. Every muscle gets a work out… even your smile.
Core workout. Everyone has heard how good paddling is for building core strength and most people want to try stand up paddling for that fact alone. Each time a paddler catches the water with the blade they engage their core muscles to complete the paddle stroke. There are two reasons why core strength is fundamental in stand-up paddling.
The first being it will help support their back in providing the power for the stroke.
The second reason is that it will provide more strength and therefore more power.
Core workouts are beneficial for everyone and are an integral part of all fitness routines. Imagine being on the water and enjoying the great outdoors whilst exercising rather than in a gym? Not to be a downer on your gym time and workouts as they are definitely a great way to stay fit and healthy but why not include some weekly SUP activity and add some variety to your usual workout regime… what a great mix!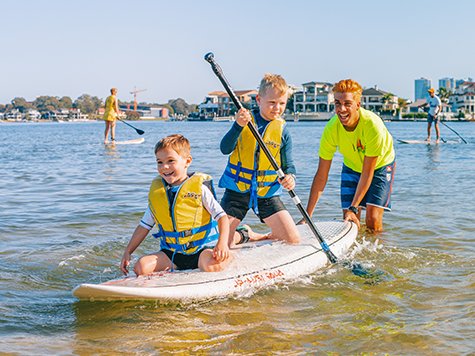 It's playtime! Even the most non-sport minded child (or adult child) will get on a paddleboard and play, rock and swim, creating exercise for all levels of fitness. We find kids quickly and easily adapt to balancing on a board. Because it's playtime they don't realise they are exercising. From playing king of the paddleboard and pushing each other off, to paddling madly in a little friendly competition race against each other, paddle boarding is a fantastic way to give your kids exercise… without them even knowing!
These are just a few of the many benefits of stand-up paddle boarding (SUP). I'm no expert but after 12 years of paddling I have seen the positives of paddling both through my personal experience and the benefits it has brought to others.
Recently I read this article written about a study that was conducted in 2018 to ascertain the health benefits of stand up paddle boarding. There was one part of the report that I really get excited about.
"Stand up paddle boarding appears to be an enjoyable, easy to learn alternative to traditional forms of training. This study shows significant improvement in aerobic and anaerobic fitness, multidirectional trunk endurance and self-rated quality of life measures can be elicited by SUP participation for previously untrained individuals. This study provides some evidence for the anecdotal claims of the benefits of Paddling."
So this is the part that gets me excited. In the highlighted area you will notice a reference to the term "participation for previously untrained individuals". This in itself is exciting because even though stand-up paddle boarding is for people of all fitness levels the ones that get the greatest physical benefit out of it are the "previously untrained individuals".
Many paddlers have joined a paddle group on the weekends to enhance their fitness and be active in the great outdoors. One lady in particular (Diane) who would come every Saturday and every Sunday to paddle achieved a visible weight loss over a three-month period in addition to developing better muscle definition in her arms and legs and a stronger core strength over time. The true benefit was that just by exercising in an activity that is both fun and social she gained self-confidence and improved mental wellbeing. With her new positive mentality, Diane found herself being a more productive person at work during the week with a lot of her colleagues commenting on the change in her outlook, her energy and her happiness. This in itself is priceless and how exciting that something as simple as a paddle group within a social environment can improve life quality and lead to improved self-confidence.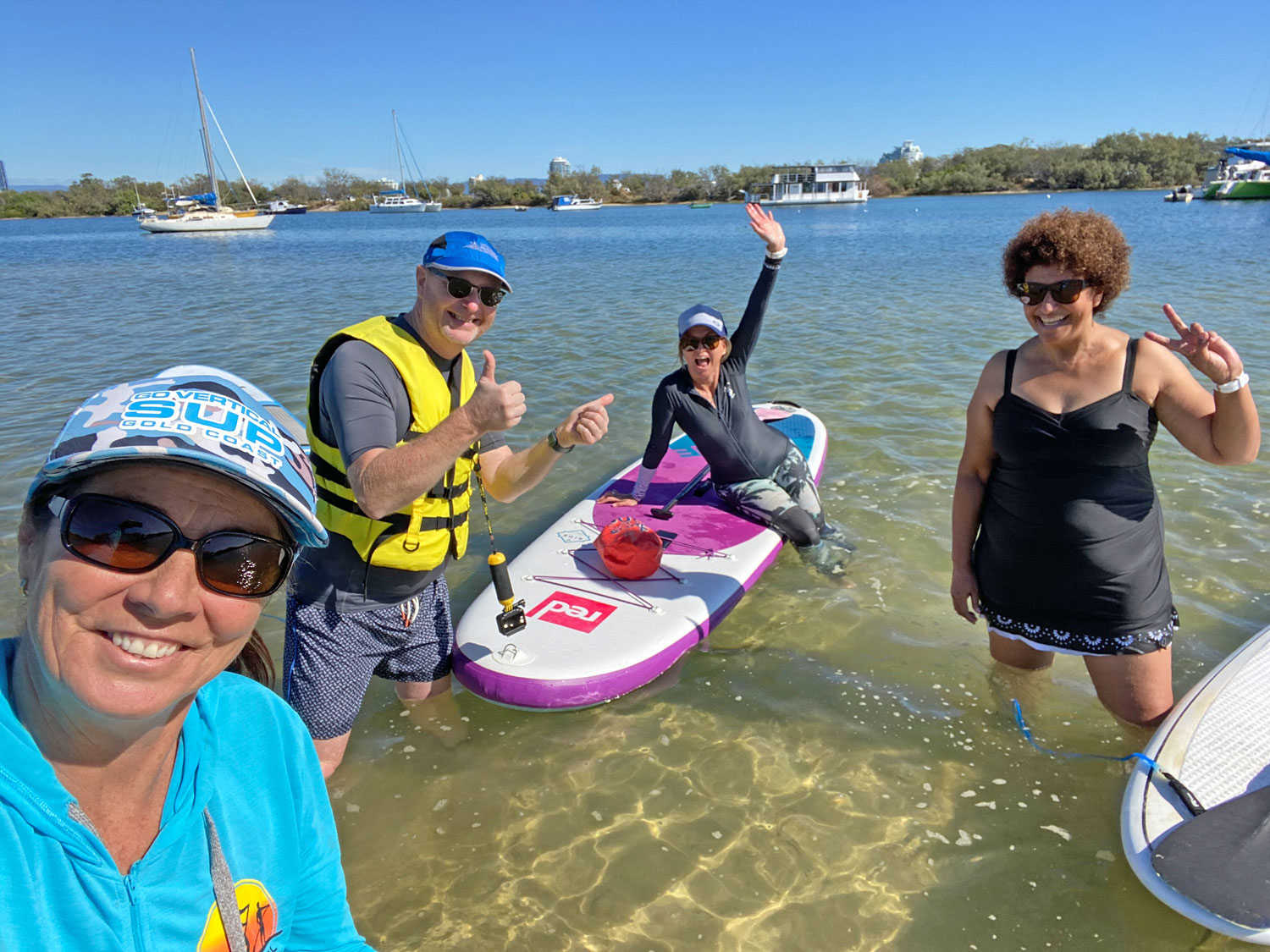 So, if you can label yourself as a "previously untrained individual" then perhaps this is a great way for you to get active and reach the health goals that you desire, whether that's losing weight, having increased self-confidence, a better sense of balance or simply a more active social life. 
Many friendships have been formed among our paddle group attendees over the years. Paddling is not just to improve fitness and health, but if you are a new resident living on the Gold Coast it's easier to meet new friends in this relaxed and active environment.
The report states that muscle mass is not gained through stand up paddle boarding alone so therefore if you could incorporate a gym program and a stand-up paddleboard program together in order to improve muscle gain and definition. I believe you can't just have one form of exercise to enhance ones health, it would take more than that. If an individual wanted to do a gym workout or a yoga session alongside the paddle boarding I think that would be so advantageous to all our fitness levels at any age.
What other benefits of paddling?
If you're a parent you will marvel at the giggles and laughter that comes from the children as they splash around on the boards. The friendly playfulness and the friendly competition in the races is great for their social skills. All in all, getting your kids into SUP will see them having fun enjoying the great outdoors, getting them away from screen time and being part of the family fun. Paddling is just the best way to reconnect as a family by bonding and be more healthy and creating warm memories that will last a lifetime.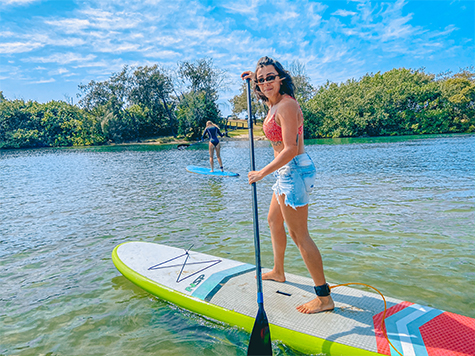 ,Another benefit of paddling is its use as a water therapy. The peace of mind that comes with the tranquility of being on the water is a benefit of every paddling experience. We often see people paddling along in their own world looking around enjoying nature, breathing the fresh air and generally giving back to themselves through water therapy.
Most first timers once overcoming the imbalance feeling, gradually improve their balance and then as they paddle along they enjoy the feeling of serenity, calm, peacefulness that being on the water provides. Whether you are a high intensity corporate career person or a hard physical worker, you will find this therapy rewarding and rejuvenating as it allows you to reset. A few of the paddle group participants find that after a long week at work, getting out on the water on a Saturday morning allows them to reset their mind. This disconnection from their work environment is such an advantage, enabling them to start their weekend peacefully by allowing them time to give back to themselves.
This activity really brings you back to being present and feeling the quality of true inner peace, or to use a cliche "to be at one with thyself". Much like marathon runners who have to go to a place deep within to find the strength needed to finish the race, for long haul paddle board racers, it is during the stages of marathon ocean paddling where most paddle racers find their strength from within. Establishing a rhythm in paddle stroke, in breath and in mind. Like a form of meditation, 'stroke, stroke, stroke' becomes a mantra of mental focus and determination.
Why has this become such a popular sport throughout the world? Now that's a good question and it's an easy one to answer. Stand-up paddle boarding is so easy to learn, it's for all fitness levels, men, women and children, elderly, non-sporty people, it's just fun for everybody because it is easy to learn. Women especially love this sport as they can go it alone. They can paddle alone, hoist the board on the roof racks, take it to the creek for a paddle and return home. Or they can socialise when paddling having a chat, a giggle, D&M with their besties, coffee afterward maybe some cake as a reward but mostly to be part of a group to interact have time out with friends and to just "be themselves".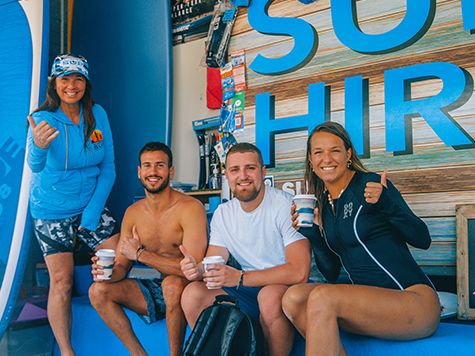 Mums tend to get a lot more out of paddling as they can drop the kids off at preschool, school or playgroup and head to the water and have some time out for themselves. As most mums know this is not only important but essential to healthy well being. Mums need to replenish their physical energy and mental sanity bank so you have something to give when you return back home to family.
Stand up paddle boarding (SUP) is a great way of exploring our world. The beautiful great outdoors here on the Gold Coast features so many waterways offering a huge selection of paddle routes to choose from. Anyone can give paddle boarding a try either by taking a guided SUP tour, learning the basics with a SUP lesson or hiring a stand up paddleboard and choosing your own adventure! We encourage you to get out on the water and start experiencing the many benefits of stand-up paddling today.